Setting up a home network using a DSL Modem
This article will continue the tutorial on setting up a home network using a DSL Modem...
1.) Intro >
2.) Network Devices >
3.) Home Network Wiring Cable Modem or DSL (You are here) >
4.) Home Router Configuration >
5.) Windows Configuration
Your ISP usually provides you with a (Digital Subscriber Line) DSL modem when you first subscribe. AT&T is the most popular ISP that provides this service. 
In rare cases, your ISP would send a technician out to install an Ethernet jack on which you would connect your router or switch and eventually your computer to one of the available ports on your router/switch. You can use this tutorial for your home network as well as your business network.
Below are some examples of modems:
---

---
The router is the central point of your network and you need to physically choose a spot in your home where each Ethernet patch cable does not exceed 100 meters.
Here's a list of DSL
Modems
if you need to buy one.
If any network cable exceeds 100 meters between your home router and computer, then you can add a switch and then run a network cable from the switch to your network device.
The switch acts like a repeater for the data signal and will allow your device to grab a good LAN speed. Similar to this....
---

---
You can learn how to create your own network cable using this tutorial.
Here is a diagram of how your network will look using a Digital Subscriber Line modem that is used on a wired network only:
I am using a Linksys Router model BEFSR41 ....The silver modem is a Motorola 2210....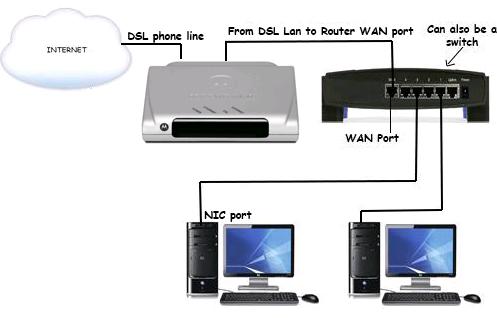 Choose the setup for your home network....
There are two scenarios you can face with DSL:
1.) Your ISP installed an Ethernet jack on the wall or they provided a modem but you want your Operating System to initiate the PPPoE connection.
2.) Your ISP provided you with a modem but you want your own wired router to initiate the PPPoE connection instead of the operating system.
Like I explained earlier, with DSL technology there is a PPPoE connection that needs to be established. Unlike Cable modem technology, where your ISP configures your modem to connect to their network, with DSL your ISP creates a unique username and password for your connection. This is how they allow you to gain access to the Internet.
One simple rule to remember is that only one device on the network should establish this connection using PPPoE. In the first scenario, I will help you configure your computer with the PPPoE connection to establish Internet Access. In the second scenario, either the modem or your own router should be configured with the username and password for PPPoE. Just make sure the modem is configured to "bridge mode'. I will explain in detail in the next articles.
Ok, lest begin with the tutorial for configuring your operating system when you have an Ethernet jack on the wall and no modem from the ISP. This next tutorial can also be used if you do have a modem but want to initiate the PPPoE connection through your client Operating System.
Choose your operating system:
---
---
Return from DSL Modem to Setting up a Home Network
Return from DSL Modem to homepage of Computer Networking Success
"Didn't find what you were looking for? Use this search feature to find it."
Custom Search
1
Did You Like This Page?
Share This Page