Computer Networking Jobs
Meet your proud career and learn how to start and prepare for it!
You can call it computer networking jobs or computer networking careers, the truth is if you wake up and love what you do, that's all that matters.
What's so attractive about these computer networking jobs is that you really have a lot of options and career paths to choose from.
3

ways to succeed in a networking IT career
1.) Earn money as part-time or full-time
This means you have the choice to keep your current job and still earn money part-time by building a steady clientele
You will have more spare time instead of working double shifts and earning low pay
You will save on repairs that your friends are paying hundreds for
2.) Start a promising high paying career
Have a sense of accomplishment
Your friends and family will be proud and refer you
No need for a second job or extra shifts
3.) Become self-employed as a computer networking consultant or open a computer repair shop.
Own a real high paying business

You are your own boss!

No limit on your earning potential
---
Want a guide to start a successful part-time computer business???
---
It's my personal opinion that you start where you feel most comfortable since some people have an entrepreneur's mindset and would like to start a business right away.
The experience you will gain from working for a company or as an IT consultant is priceless.
I recommend to start as an employee in one of the promising IT careers I will cover shortly. While you work as an employee, you can build your clientele in your off time from work and gain more experience.
You will have two sources of income and will be on your way to start a successful business.
This website covers a path to success which can be used in many IT jobs.
Click here for a website that will provide career direction and resume building.
5

"On Demand" Computer Networking Jobs
If you're planning on entering a career in IT, it is important to learn about the many networking jobs and the qualifications they usually require.
Please note that every company has their own job requirements and specific type of network. One company may require an a+ and network + certification alone, while another may require Linux+, MCSE or MCITP certifications.
Some networks might only run Microsoft servers while other would run Linux based servers.
Check this fun pic below....This could be you!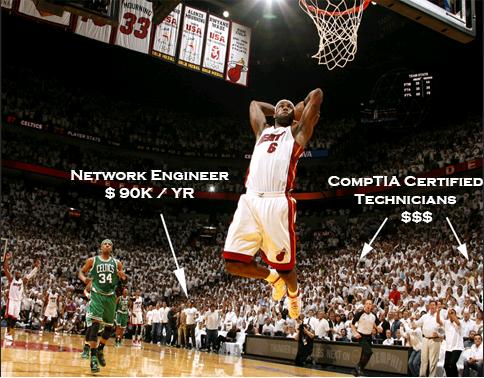 The IT careers are....
Share Your Career Tips and Success Story!
It's easy to do, Just use the following form to submit your own page about your career.

Tell us what your IT job title is and maybe the salary you make. Do you recommend this networking job? What are your secrets to success in your career? What network certifications helped you earn your position?
Return from Computer Networking Jobs to homepage of Computer Networking Success
"Didn't find what you were looking for? Use this search feature to find it."
Custom Search
1
Did You Like This Page?
Share This Page