How to Configure Windows 8 PPPoE Internet Settings for DSL at home
Learn how to Configure Windows 8 PPPoE Internet Settings with this easy to follow tutorial....
In order for your DSL Internet to work at home, you will need to configure a Windows 8 PPPoE Internet connection. The PPPoE Internet connection needs to be initiated by either your home router, your DSL modem or configured in Windows 8.
Just remember that your DSL modem should be configured with Bridge Mode if you are planning on using your own home router.
This tutorial will show you how to configure your Windows 8 system to initiate the PPPoE Internet connection.
Start here: Configure a PPPoE connection on your Windows 8 system
Windows 8 brings a really cool new start screen. It is "alive" and "fresh". You can quickly choose to check your email, your calender, your contacts, photos, music, etc. Unlike Windows 7, where you first see the desktop, this new screen in Windows 8 has a window for the desktop.
1.) Click the "Desktop" window in the lower left corner.
2.) Click the "Windows Explorer" icon in the bottom left corner of the Taskbar.
A new window opens.
Right-click "Network" and click "Properties"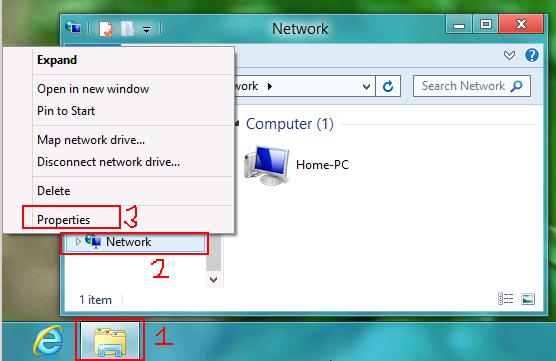 3.) The Network and Sharing Center window opens. Click "Set up a new connection or network"
4.) The Set Up a Connection or Network window opens. Choose "Connect to the Internet" and click "Next"
5.) If you are already connected to the Internet, the next window will let you know that you are online already. If this is the case then continue and click "Set up a new connection anyway".
6.) In the next window, it will ask you how do you want to connect? Click "Broadband (PPPoE)".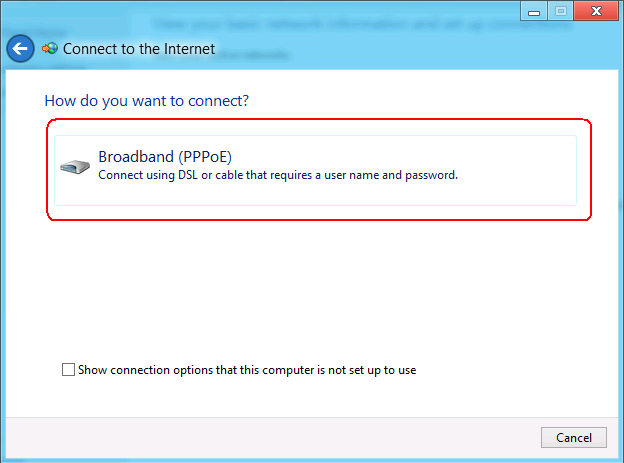 7.) It now asks you for a username and password. In order to establish a connection to use your DSL Internet service, you need to use the username and password that your Internet Service Provider (ISP) gave you when you ordered the service.
Type the username
Type the password
Type a Connection name that will easily help you identify it later.
Make sure the "Allow other people to use this connection" option is checked if you want other users on this computer to see the connection and connect to it.
Click "Connect"
You can now use this connection to access the Internet using your DSL service.
You can find the new Broadband Connection in the "Network Connections" window. If you right-click the "Broadband Connection click "Create Shortcut" to make a shortcut on your desktop.
---
Return from Windows 8 PPPoE Internet to Setting up a Home Network
Return from Windows 8 PPPoE Internet to homepage of Computer Networking Success
"Didn't find what you were looking for? Use this search feature to find it."
Custom Search
1
Did You Like This Page?
Share This Page