Computer Network Engineer
A computer network engineer is the expert that deals in greater depth with network related issues.
They design and install internal and external networks. Usually when a network administrator is "stumped" with a network issue, he would usually engage the network engineer. The advance routers and switches on the network require an expert to understand and configure its settings in order for the network to run smoothly.

Job Description and duties:
A computer network engineer determines an organizations business needs and plans the network to fit those needs. They choose the network equipment that fits that organizations budget and requirements. Some of the duties are:
Troubleshoot internet connectivity for the organization

Configure and maintain offices using T1 lines.

Install, maintain and troubleshoot hardware firewalls

Install, maintain and troubleshoot switches and routers

Design and test network LANs and WANs

Setup and manage VoIP telephone systems

Set up Virtual Private Networks
Picture this: McDonald's opens a new restaurant. They will require a network engineer to configure and maintain their routers and switches. Their tasks would include configuring and testing the network equipment to sync up with their headquarters. This will allow continuous communication between all McDonald's restaurants.
Part-time Potential Income
When you become a network engineer you will have the ability to take on more complex networks. This means you can earn big bucks:
Installing new routers and switches for medium sized companies

Companies like McDonalds, Wendy's and other major food chains will benefit from your services

You can provide network consulting services to companies who can't figure out their complicated network issues

Set up and manage VoIP telephone systems

Set up VPNs
While this career can be challenging, it is very rewarding to say the least. All the hard work you put into it will pay off tremendously. You have to be determined and dedicated to applying your mind and strive for success.
---
Learn how you can start an easy part-time business. Easy to follow step by step guide....
---
Computer Network Engineer Salary
The average median salary in 2011 for this career is $78,000 per year or $37.50 per hour.
Job Growth - Employment is expected to grow 22 percent from 2010 – 2020.
Education - Bachelor's degree is highly important. High demand certifications offered by Cisco and Microsoft are a must.
Stand out from the crowd and Succeed!
Make sure you earn your Bachelor's degree. While you're working on the degree, work on earning your Microsoft and Cisco certifications.
Cisco offers a great certification ladder with their CCNA, CCNP and CCIE. These are challenging certifications and they require great knowledge in network technology. I believe if you earn a CCNP and CCIE alone without any degrees can impress any employer. They still require a degree or some training to meet their minimum requirements.
Transcender helped me study for all my IT certifications. You can't go wrong since they guarantee you will pass every exam on the first try or your money back!!
Just remember there are other candidates that might have their Bachelor's degree or even Master's degree and you want to be as qualified or more than them. Accomplishing a goal like earning your certifications is such a great satisfaction that you wont be intimidated by any network challenges. These certifications prepare you for complex networks that seem easier to you than the average college graduate.
This could be you once you become a network engineer...
Don't Forget To Visit Our Store for our recommend materials to use when pursuing a networking career!!!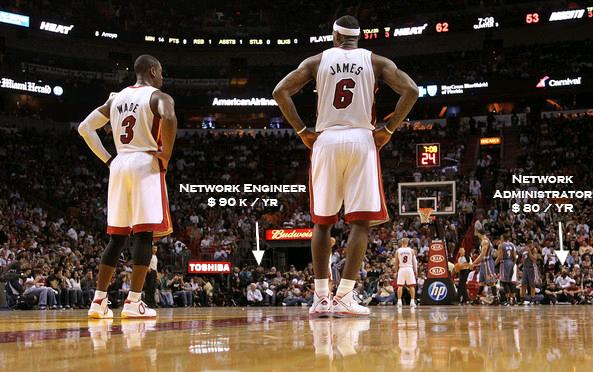 <-Go back a section to "Computer Network Administrator" or move on to "Database Administrator" Next ->
Return from Computer Network Engineer to Computer Networking Jobs
Return from Computer Network Engineer to homepage of Computer Networking Success
"Didn't find what you were looking for? Use this search feature to find it."
Custom Search
1
Did You Like This Page?
Share This Page