How to Configure a Windows 7 Network Profile Manually
A windows 7 network profile is created when ever you connect to a wireless network.
If a wireless network that you want to connect to doesn't appear on the list of available networks, it might be because the network is not broadcasting. In that case, you can create a profile for the network so that you can connect to it automatically in the future.
If you want to use the built-in wireless utility in Windows 7 to connect to an available network then check this tutorial out.
Follow the steps in this page to learn how to create a manual wireless network profile....
| | |
| --- | --- |
| 1.) Click Start, then click Control Panel | |
---
2.) The Control Panel window opens,

Click View network status and tasks
---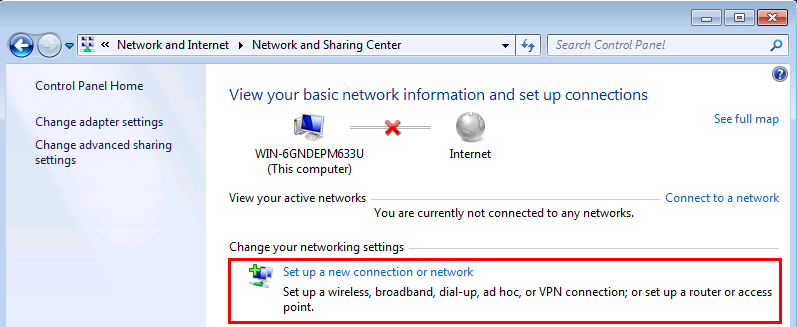 ---
4.) The Set Up a Connection or Network window appears.
Select Manually connect to a wireless network.
Click Next
---
5.) In the next window,
You can enter the Network Name: (This is the SSID of the network that is configured on your wireless router)
Security type: (This is configured on the wireless router ie: no authentication (open), WEP, WPA, WPA2 personal or enterprise, 802.1x)
Encryption type: (TKIP or AES)
Security Key: (The wireless password key that is configured on the wireless router)
NOTE: Ensure that Start this connection automatically is checked. (This way your computer will connect to this network automatically when it is in range)
Click Next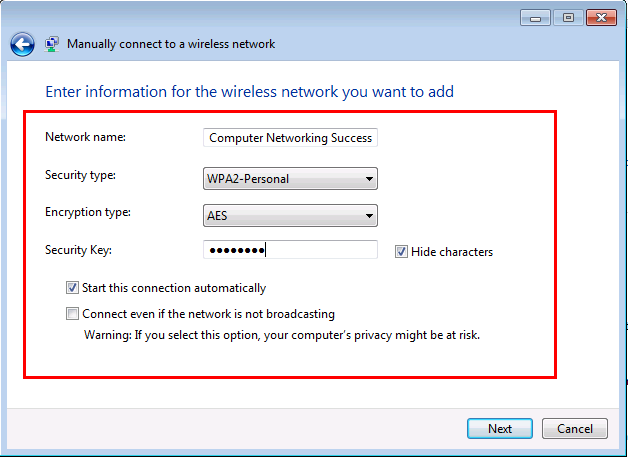 ---
6.) Finally, You can click Change connection settings if you need to change any settings. At this point your wireless network profile is already created.
Your computer will connect to the wireless network when it is in range. If it does not connect successfully then one of the settings (SSID, Security Type, Encryption Type or Security Key) does not match the settings in the wireless router.
Learn how to log into your wireless router and check these settings. Use this tutorial.
---
You have now manually configured a network profile in Windows 7.
Click here to return to the wireless network adapter configuration tutorial for Windows 7
---
Return from Windows 7 Network Profile to Windows 7 Networking Tips
Return from Windows 7 Network Profile to homepage of Computer Networking Success
"Didn't find what you were looking for? Use this search feature to find it."
Custom Search
1
Did You Like This Page?
Share This Page