Windows Vista WLAN AutoConfig Service
The Windows Vista WLAN AutoConfig service is important in your Vista system. It is used to configure your wireless adapters for connectivity to wireless networks. Windows 7 also used this service and Windows XP uses Wireless Zero Configuration service.
Instead of this feature you can go ahead and use your wireless adapter's wireless utility to manage your wireless networks.
I prefer to use this service because it is built-in and easy to use.
Let's ensure that this service is running...
1.) Click Start, type Services

Click Services under Programs

Another way to reach the services window:

Start - Control Panel - Administrative Tools - Services
---



2.) The User Account Control will prompt you to continue.

Click Continue
---
3.) The Services window appears
Scroll down and find WLAN AutoConfig service.
Note: You can see the status is Started. If it is blank or stopped, you can change it to Started. Double-click the WLAN AutoConfig service.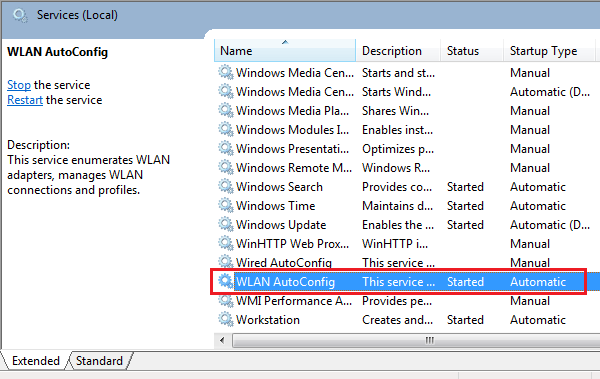 ---



4.) The WLAN AutoConfig Properties window opens, you can set it to start automatic or disable the service by clicking the drop-down menu next to Startup type:

If you click Manuel, then the service will run only when you manually tell it to.
---
If you don't enable this feature, the Vista's Connect To window will not detect any wireless network.
You can go to your wireless adapters manufacturer's website and download their wireless utility. Just remember that this utility will work only with that make of your adapter. If you ever buy a new one, then it won't work most likely. This is why using the built-in Windows Vista wireless utility is best.
Here's a tutorial on 10 great tips on how to secure your home wireless network...
You can continue setting up your wireless network by following this link on wireless network setup on Windows Vista...
---
---
Return from Vista WLAN AutoConfig to Setting up a Home Network
Return from Vista WLAN AutoConfig to homepage of Computer Networking Success
"Didn't find what you were looking for? Use this search feature to find it."
Custom Search
1
Did You Like This Page?
Share This Page