The CompTIA Server+ certification tests you on your knowledge with server hardware and software. It validates knowledge of server issues and technology.
| | |
| --- | --- |
| CompTIA recommends you have 18 to 24 months of experience in server technology along with a CompTIA A+ certification. It is not required though. | |
CompTIA recommends you have 18 to 24 months of experience in server technology along with a CompTIA A+ certification. It is not required though.
With this certification you can perform job roles as a network administrator, network engineer, systems administrator and web site administrator. This certification is an international vendor neutral credential. This means it is well recognized all over the world in the IT field.
Here are the certification exam details: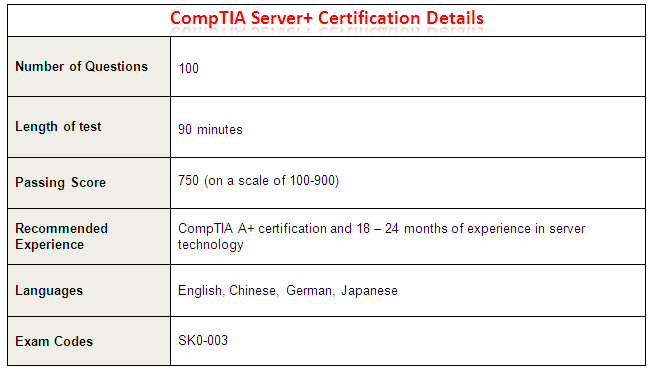 The CompTIA Server+ certification is a good entry-level certification for server technology. The Microsoft server related certifications usually require more than one exam to get certified. The Server+ requires only one exam and can help you land a job as an administrator meanwhile you work on the more advance Microsoft Server certifications.
Here are some concepts that are covered in the Server+ certification:
Server hardware

Server software

Describe common elements of networking essentials like subnetting, DNS, DHCP and ports

Storage technologies and benefits

Determine an appropriate physical environment for the server location

Classify physical security measures for a server location

Disaster recovery

Troubleshooting of server software and hardware

Where to start?
1.) Buy a good Server+ book and e-courses

- These books usually bring practice questions
2.) Learn the material by using CBT Nuggets or Testout. My favorite one is Transcender. They offer great e-learning courses and Virtual Labs.
Also make sure you get a hold of practice exams. Try Transcender, they guarantee you will pass your exams on the first try.
3.) Buy a certification exam voucher.
www.pearsonvue.com/comptia

comptiastore.com (CompTIA official store)
4.) Schedule your exam at your nearest location.
If server technologies interest you about computer networking then the Server+ certification will put your foot in the door pretty quickly. It only requires one exam and your certified!
Add this certification along with an A+ and Network+ certification to your resume and you will look like a great candidate for any network administrator job opportunity.
Practice at Home....And Don't Stop Practicing!
Make sure you download a virtualization program like VMware Player (it's free), and install many Windows and Linux server virtual machines to practice.
Microsoft provides a trial version for 6 months with all of their server distributions. When the 6 month trial is over, re-install again from scratch and keep practicing. Their evaluations bring all the features the real software would bring.
Use a good
Server+ certification book
Start with the following links to download a free virtualization software and choose your server OS:
Download the free version of VMware Player
Windows Server 2008 R2 evaluation trial (180 day): Download Now
Windows Server 2012 trial: Free
Ubuntu Server free full version
<====Return back........to CompTIA Network+ page or move forward to MCITP:Enterprise Administrator====>
---
---
Tell Us About Your Home Practice Lab for the Server+!
It's easy to do, Just use the following form to submit your own page describing your home practice lab that you use to practice your CompTIA certifications. Also provide tips on how to earn the Server+ certification.

What operating systems and programs do you use? VMware, Windows, Linux.
Show us pictures of your home setup.
Return from CompTIA Server+ to Network Certification
Return from CompTIA Server+ to homepage of Computer Networking Success
"Didn't find what you were looking for? Use this search feature to find it."
Custom Search
1
Did You Like This Page?
Share This Page