CompTIA Network+ Certification
The CompTIA Network+ is an exam for a qualified networking professional. 
| | |
| --- | --- |
| The exam covers network technologies, installation and configuration, understanding of network hardware and network troubleshooting. | |
It is recommended by CompTIA that a person should have at least 9 months of networking experience and an A+ certification before taking this exam. It is not a requirement though.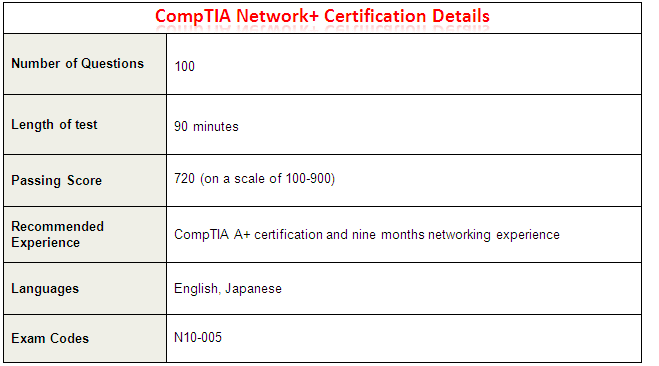 What is covered in the Network+ Certification?
When you start the Network+ studies you will notice similar basic material that was covered in the A+. The A+ certification will give you a great start on learning computer networking.
Here are some concepts that are covered in the Network+ certification:
Networking concepts like OSI Model and TCP/IP Model

Explain the purpose and properties of IP addressing

Explain the purpose and properties of routing and switching

Explain the function of common networking protocols like FTP, UDP, DHCP etc

Summarize DNS concepts and its components

Network installation and configuration

Network Media and Topologies

Network Management

Network Security

Where do you start?
| | |
| --- | --- |
| 1.) Buy network+ books and e-courses | My Favorite Network+ Book |
2.) Invest in a good video courses like CBT Nuggets or Testout.
3.) Use practice questions from Transcender. They are willing to refund your money if you don't pass the first time. That is their guarantee!
4.) Buy a certification exam voucher.
www.pearsonvue.com/comptia
comptiastore.com (CompTIA official store)
5.) Schedule your exam at your nearest location.
Practice!.....Practice!!.....Practice!!!
Practice makes perfect.
Set up your own home computer lab where you can troubleshoot and follow the labs provided in the
Network+ Certification Book
Play around with your home network. Break it on purpose, then troubleshoot it, fix it and then break it again. The more experience you get then the better your understanding of computer networking. Practice using home routers and switches. Start offering your computer services to friends and family to get experience.
Soon enough you will be able to charge for your services. Become a respected network savvy IT technician.
Download free virtualization software like "VMware player" and run multiple operating systems. This is an efficient way to run many virtual machines and save on hardware costs. With one good laptop or desktop, you can run different operating systems like Windows 7, Windows XP and even Linux.
Practice sharing files, folders and printers from different operating systems. VMware will even run a Linux distribution which is free to download. I like to run "Ubuntu" Linux which is free and has a great community. Try to see if you can share resources from a Windows virtual machine to a Linux virtual machine. All of this practice will cost you nothing! Only your hard work and dedication. The only monetary cost would be your laptop and Internet that you use I guess.
You will find out that networking is fun and exciting….It is up to you and only you that has control over how much you will learn…
<=Return back....to CompTIA A+ certification page or move forward to CompTIA Server+......next=>
---
---
Tell Us About Your Home Practice Lab for the Network+!
It's easy to do, Just use the following form to submit your own page describing your home practice lab that you use to practice your CompTIA certifications. Also provide tips on how to earn the Network+ certification.

What operating systems and programs do you use? VMware, Windows, Linux.
Show us pictures of your home setup.
Return from CompTIA Network+ to Network Certification
Return from CompTIA Network+ to homepage of Computer Networking Success
"Didn't find what you were looking for? Use this search feature to find it."
Custom Search
1
Did You Like This Page?
Share This Page